What is Kefir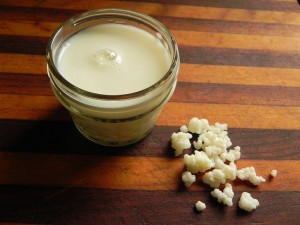 "Grains of the Prophet Mohammed" more popularly known as kefir, is a fermented, enzyme-rich beverage that originally hails from Russia. Other names include "Drink of the Prophet", "Snow us", "Tibetan Mushroom", "Balm of Gilead", "Yogurt Plant", "California Bees L ot", kombucha, tibcos, "Yogurt Mushroom". It is a cultured drink that is very similar with yogurt. As with yogurt, kefir grains are packed with billions of probiotics that are very beneficial to our health.
Along with probiotics, kefir also contains different strains of yeast in the matrix of water soluble polysaccharide, known as kefiran, lipids and proteins which make the grains cauliflower-like appearance and imparts a rope-like texture in the mouth. Not only that, kefir contains micro- and macro-nutrients, essential vitamins and minerals like proteins, vitamin A, vitamin B1, vitamin B2, vitamin B3, Vitamin B6, vitamin D, vitamin K, folic acid, potassium, magnesium, phosphorus, iron, iodine, and calcium.
What are kefir grains

There are a lot of stories spreading on how kefir was discovered. The most popular folklore says that kefir grains were given by Prophet Mohammed to the Orthodox Christians and prohibited them to disseminate to anyone because the prophet claimed that they will lose their magical powers if they did. And so, for centuries, it was held secret. This may be the reason why only a few people know about kefir until now.
Kefir history started thousands of years ago when shepherds and townsmen of the Caucasus Mountains discovered "kefir grains". These "grains" are actually not grains but is a delicate combination of beneficial yeast and bacteria.
The shepherds accidentally discovered this magical food when they kept raw milk in their leather pouches which fermented into a effervescent, carbonated drink.At first, they did not know anything about this new food. They just realized that they felt more energetic, healthier and were freed from diseases after taking it. What used to be fresh milk turned into a cultured beverage, which the shepherds later discovered to have numerous health benefits.
During the 1800's, the doctors of the former Soviet Union heard the magical remedy of kefir. They persuaded the most popular dairy farmers in Russia for its discovery in the Caucasus Mountains. The Moscow dairy brothers took on the task to monopolize to be the only kefir producers in the region.
They sent a beautiful lady named Irina Sakhavarova to convince the prince of Caucasus Mountains to give her kefir grains with the recipe. Although the prince was captivated by the beautiful lady, he was afraid of being punished for giving the "Prophet Grains", hence he refused. Irina, on her way back to the Soviet Union, was kidnapped by mountain tribesmen and was brought back to the Prince. It was a local practice "to steal a bride" so when Irina was brought back, she was forced to marry the Prince.
An investigation was done by the Moscow brothers and saved her from the forced marriage. The supreme rulers of the Caucasus Mountains heard of the ordeal, ordered the Prince to give the beautiful lady the grains to make up for the embarrassment he had caused her.
The very first medical benefit was proven by Russians wherein they said that kefir can cure lung disease caused by Mycobacterium tuberculosis. Russian doctors of the Victoria era used kefir to treat tuberculosis and intestinal problems. They truly believed that kefir was magically miraculous and very beneficial to one's health. After several years of following and research, it was discovered that kefir can treat many other more diseases namely atherosclerosis, allergies, cancer, other respiratory disorders, constipation, diabetes and more. Soon, kefir has become a popular health food among the Caucasus, Southwestern Asia, Western Europe and Russia.
Research About Kefir
Researches revealed that kefir grains can actually suppress the growth of pathogens. Kefir grains were cultured in a medium which had been contaminated with Escherichia coli, a pathogen that inhabitant the intestines, but these coliforms were mercifully killed by probiotics. It was also shown in some batches that kefir grains completely inhibited the growth of E. coli for at least one day.
Another research done in Soviet Union comparing pasteurized milk, kefir and dairy products samples from Moscow that were intentionally infected with fecal coliforms, Shigellasonnei. The coliforms were still present after they were diluted with peptone water. After which, 0.5ml was plated and incubated at37 °C for 18–24 hours. They were surprised to find out that kefir contains quantities of organisms of less than 1,000 cfu/ml while pasteurized milk and the dairies contain more than 10,000 cfu/ml of organisms. These results concluded that pathogenic bacteria cannot survive anywhere near kefir.
Kefir Benefits
Kefir has many amazing health benefits. As mentioned above, this food is rich in Lactobacillus and other beneficial organisms. In fact, the cocktail of probiotics, micro- and macronutrients, vitamins and minerals with kefir makes it one (if not the most) of the most powerful foods in the universe.
One awesome benefits of kefir is known for promoting bowel movement, to promote bile production and improves liver and gallbladder functions. Kefir is also known to regulate metabolism through improved digestion and to alleviate intestinal disorders. It boosts our immune system, eliminates bad bacteria, flushes pathogens and has antifungal properties which is why it is sometimes called as the natural antibiotic. Kefir strengthens the kidneys, improves blood circulation and regulates sugar and cholesterol diseases. It also promotes healing of various skin disorders.
What is good about this magical food is that it can be taken by all generations, from young to old; male or female; pregnant or non-pregnant; sick or immuno compromised and healthy. It is not only curative but also preventive which means you don't have to be sick to drink it.
It is safe to drink it everyday Water kefir is non fattening so can be taken by those who fears on gaining weight. This food is a must have for those who wishes to be healthy and has generally no kefir side effects. (Although some complains of stomach cramps and constipation)
Below is a list of diseases that kefir can treat or improve. Although some of these kefir health benefits are still under research, most of them are from personal experiences of kefir drinkers.
Acne Vulgaris
Acute Bronchitis
Allergy
Anemia
Anxiety
Attention Deficit Hyperactivity Disorders (ADHD)
Colitis
Colon Cancer
Constipation
Depression
Diarrhea
Eczema
Gastric Ulcer
Gastritis
Gastroesophagealrefux
Gout
Hepatitis
Insomnia
Irritable Bowel Syndrome
Lactose Intolerance
Leaky Gut Syndrome
Migraine
Obesity
Ospeoporosis
Acute Pain Syndrome
Prostate Cancer
Psoriasis
Rheumatism
Tuberculosis
Urinary Tract Infection
Kefir Probiotics Bacteria
Bifidobacteria species
Lactobacillus species
Lactobacillus brevis
Lactobacillus casei
Lactobacillus delbrueckii
Lactobacillus helveticus
Lactobacillus kefiranofaciens
Lactobacillus kefiri
Lactobacillus paracasei
Lactobacillus plantarum
Lactobacillus rhamnosus
Lactobacillus sake
Leuconostoc species
Leuconostocmesenteroides
Leuconostocmesenteroides subsp. Dextranicum
Leuconostocmesenteroides
Pseudomons species
Pseudomonas fluorescens
Pseudomonas putida
Streptococcus species
Streptococcus thermophilus
Yeasts
Candida specie
Candida humilis
Kazachstania specie
Kazachstaniaunispora
Kazachstaniaexigua
Kluyveromyces species
Kluyveromycessiamensis
Kluyveromyceslactis
Kluyveromycesmarxianus
Saccharomyces species
Saccharomyces cerevisiae
Saccharomyces martiniae
Saccharomyces unisporus

Kefir VS Yogurt
It may seem that kefir is the same with yogurt. Yes, they are similar but not totally the same. A major characteristic of kefir is that the probiotics contained in kefir attach themselves to the colon, sweeps away all the harmful substances and colonizes the intestines.
Kefir contains over 50 strains of friendly organisms. On the other hand, yogurt cleans the digestive system and provides food for the friendly bacteria that inhabitants our intestines. Yogurt makes sure that these bacteria grow and remains stable. However, yogurt lasts only for one day while kefir lasts forever. Kefir size is also smaller than yogurt making it easier to digest and is a perfect nutrition for babies, elderly and people who have sensitive intestines.
Milk Kefir is mesophilic which means they thrive best at room temperature, around 20 and 45°C (68 and 113 °F). Meanwhile, yogurt is both mesophilic and thermophilic. They can be grown either at room temperature or at extremely high temperature.
The consistency of kefir is a little bit yeasty due to the beneficial yeast contained in the culture. It also tastes sourer when compared with yogurt. Both kefir and yogurt can be drained to produce cheese. Draining whey from yogurt or kefir makes thick yogurt or cheese ranging from soft to hard cheese.
Types of Kefir
There are two types of kefir: water kefir and milk kefir. Both kefir grains contain live microorganisms and are sustainable and economical. With little care, these grains can be recycled over and over again.
How to make kefir
There are 2 types of kefir but the method on fermenting kefir is the same.
To know about how to make kefir  – http://www.thewalkingencyclopedia.com/kefir-milk/#How_to_Make_Raw_Milk_Kefir
To know about how to make water kefir – http://www.thewalkingencyclopedia.com/water-kefir/#How_to_Make_Water_Kefir
If you wish to learn more about kefir recipes – http://www.thewalkingencyclopedia.com/kefir-recipes/
How to store water and milk kefir grains
To recycle the grains, rinse them with un-chlorinated water and put them in a new batch of milk or water kefir. Let it stand at room temperature for a sourer taste or refrigerate for a milder palate.
Steps on How to Revive Deep-Sleep Grains
In a clean jar, dissolve sugar in water. Add kefir grains and cover.
Leave it for 3 days.
Get the grains and place them in a cup of fresh milk every 24 hours.
After 3 days, combine the grains and milk in a clean glass jar and cover. Let it stay for 1 day.
Mix to thicken the mixture and leave it for another 12 hours.
By then, the grains should be active once again.
Adjust the milk according to the taste and not the consistency of the mixture.
Kefir Danger: Precautions When Handling Kefir
During fermentation, avoid exposure to direct sunlight.
Cover the lid loosely to allow escape of gas produced during fermentation. Tightly covered jars may lead to explosion.
When making milk kefir, do not ferment for too long as the mixture will get too sour and separation will be seen as layers of pale yellow liquid is formed which is called whey. This will make straining more difficult
Use non metallic utensils as metals destroy the microorganisms found in kefir.
Use UN-chlorinated, filtered water as chemicals present in tap water destroy the good bacteria.
Do not boil or overheat the kefir. This will also kill the bacteria.
Do not starve the grains. If you want to store the grains for a longer period, (2 weeks or more), change the milk every few weeks to feed the grains.
Freezing stops fermentation and puts the grains into sleep. Some grains are difficult to wake up. You may want to learn on how to wake up the grains.
Where to buy kefir grains
For people need some kefir starter kits and who are interested to  buy kefir grains online, please choose a package below.
Here's a short video Michael showing what kind of kefir grains in his package
The shipping fee is free and available in Afghanistan, Albania, Algeria, Andorra, Angola, Antigua and Barbuda, Argentina, Armenia, Aruba, Australia, Austria, Azerbaijan, Bahamas, Bahrain, Bangladesh, Barbados, Belarus, Belgium, Belize, Benin, Bhutan, Bolivia, Bosnia and Herzegovina, Botswana, Brazil, Brunei, Bulgaria, Burkina Faso, Burma, Burundi, Cambodia, Cameroon, Canada, Cape Verde, Central African Republic, Chad, Chile, China, Colombia, Comoros, Congo, Costa Rica, Cote d'Ivoire, Croatia, Cuba, Curacao, Cyprus, Czech Republic, Denmark, Djibouti, Dominica, Dominican Republic, East Timor, Ecuador, Egypt, El Salvador, Equatorial Guinea, Eritrea, Estonia, Ethiopia, Fiji, Finland, France, Gabon, Gambia, Georgia, Germany, Ghana, Greece, Grenada, Guatemala, Guinea, Guinea-Bissau, Guyana, Haiti, Holy See, Honduras, Hong Kong, Hungary, Iceland, India, Indonesia, Iran, Iraq, Ireland, Israel, Italy, Jamaica, Japan, Jordan, Kazakhstan, Kenya, Kiribati, North and South Korea, Kosovo, Kuwait, Kyrgyzstan, Laos, Latvia, Lebanon, Lesotho, Liberia, Libya, Liechtenstein, Lithuania, Luxembourg, Macau, Macedonia, Madagascar, Malawi, Malaysia, Maldives, Mali, Malta, Marshall Islands, Mauritania, Mauritius, Mexico, Micronesia, Moldova, Monaco, Mongolia, Montenegro, Morocco, Mozambique, Namibia, Nauru, Nepal, Netherlands, Netherlands Antilles, New Zealand, Nicaragua, Niger, Nigeria, Norway, Oman, Pakistan, Palau, Palestinian Territories, Panama, Papua New Guinea, Paraguay, Peru, Philippines, Poland, Portugal, Qatar, Romania, Russia, Rwanda, Saint Kitts and Nevis, Saint Lucia, Saint Vincent and the Grenadines, Samoa, San Marino, Sao Tome and Principe, Saudi Arabia, Senegal, Serbia, Seychelles, Sierra Leone, Singapore, Sint Maarten, Slovakia, Slovenia, Solomon Islands, Somalia, South Africa, South Sudan, Spain, Sri Lanka, Sudan, Suriname, Swaziland, Sweden, Switzerland, Syria, Taiwan, Tajikistan, Tanzania, Thailand, Timor-Leste, Togo, Tonga, Trinidad and Tobago, Tunisia, Turkey, Turkmenistan, Tuvalu, Uganda, Ukraine, United Arab Emirates, United Kingdom, Uruguay, Uzbekistan, Vanuatu, Venezuela, Vietnam, Yemen, Zambia and Zimbabwe.
Take note that some countries custom preferred to put the name of the product, so if your country has a strict custom please put special instruction.
Buy Milk Kefir Grains + Water Kefir Grains + Video Course
Buy Milk Kefir Grains + Video Course
Buy Milk Kefir Grains
Buy Water Kefir Grains + Video Course
Buy Water Kefir Grains
Buy Kefir Video Course
Kefir Equipments